Woman behind Schindler's lists dies at 107
Mimi Reinhardt, secretary of Oskar Schindler, helped him save Jews during the Holocaust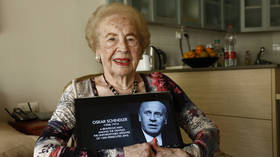 Mimi Reinhardt, who helped German industrialist Oskar Schindler compile his famous lists that saved hundreds of Jews during the Holocaust, has passed away at the age of 107.
Born in Austria, Reinhardt was Jewish herself, and was employed by Schindler, working as his secretary until 1945. She was the person that drew up several lists of Jewish workers from the ghetto of the Polish city of Krakow. These individuals were subsequently recruited as workers at Schindler's factory, which saved them from deportation to Nazi death camps. The scheme helped approximately 1,300 people survive the Holocaust, with Schindler and his secretary putting their own lives on the line.
This dramatic episode was portrayed in Thomas Keneally's 1982 novel 'Schindler's Ark', and the 1993 award-winning film adaptation by Steven Spielberg, 'Schindler's List'.
In 1993, Schindler – who died in 1974 – was recognized by Israel's Yad Vashem Holocaust Museum as one of the "Righteous Among the Nations" – non-Jews who risked their lives to save Jews during the Holocaust.
As for Reinhardt, she moved to New York after WWII and lived there until 2007, when she relocated to Israel, joining her son there. She spent her last years at a nursing home in the vicinity of Tel Aviv.
A journalist who visited her there said that Reinhardt "took part in the activities of the nursing home and was a bridge champion." The woman also reportedly "surfed the net and monitored the stock exchange."
The precise date of her death is not immediately known.
"My grandmother, so dear and so unique, passed away at the age of 107. Rest in peace," Reinhardt's granddaughter Nina wrote in a message to relatives on Friday, as reported by AFP.
You can share this story on social media: