Almost entire world population breathing substandard air – WHO
Governments urged to do more to fight endemic pollution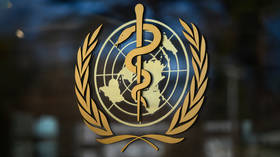 The UN body tasked with advising governments on global public health challenges updated its air-pollution database on Monday for the first time since 2018. According to the new information, 99% of the world's population breathes air that falls short of its standard for quality.
The WHO revised its standard for air pollution last year to emphasize the urgency for more government action on the issue. In a Monday press release explaining the update, the WHO claims that "the evidence… points to significant harm caused by even low levels of many air pollutants" and is "growing rapidly." The organization estimates that seven million deaths occur each year from "exposure to ambient and household air pollution."
The new database includes measurements from an additional 2,000 cities actively monitoring air quality. More than 6,000 cities in 117 countries are now participating in the study.
The WHO notes that 1,500 of the cities added are in low-income and developing countries, which it says remain both inadequately monitored and more replete with air-quality problems. So an apparent rise in the portion of the world's population breathing poor-quality air is to be expected.
Among other recommendations to curb air pollution, the WHO urges the need for "speeding up the transition to healthier energy systems," and to accelerate the transition "towards a world that is much less dependent on fossil fuels." It also recommends "safe and affordable public transport systems" and "stricter vehicle emissions and efficiency standards."
UN member states have sought to apply WHO advice as they improve air quality in their cities to varying extents. In February, France opted to postpone a planned ban on private motor vehicles in Paris until 2024. It had previously postponed a ban on gas-powered vehicles and diesel-powered cars manufactured before 2006 and 2011, respectively, which it intends to implement next year.
Meanwhile, China recorded Beijing's average concentration of hazardous airborne PM 2.5 particles to be just 5 micrograms per cubic meter during its lunar New Year celebration in January, down from 289 micrograms per cubic meter during last year's celebration. Chinese officials achieved this drastic decline by means of a complete fireworks ban across the city.
You can share this story on social media: