Dutch internet providers block RT, Sputnik – media
The punitive measures are part of the EU's sanctions imposed on Moscow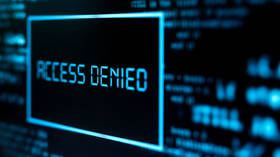 Several major Dutch internet providers have reportedly begun blocking websites belonging to RT English, RT UK, RT DE, RT France, RT Spanish, as well as Sputnik.
According to the ANP news outlet, the Netherlands' Authority for Consumers and Markets (ACM) targeted the said Russian media, as they are on the EU's sanctions list, which the bloc enacted in response to Moscow's military offensive in Ukraine.
It is said that the ACM on Monday sent a list of undesirable media to internet providers,including VodafoneZiggo, KPN, and T-Mobile.
A VodafoneZiggo spokesperson told journalists that the company was indeed going to block the websites "as soon as possible, probably Tuesday," with T-Mobile expected to comply soon as well.
KPN, while agreeing to restrict access to the Russian media, has made it clear that it is "fundamentally" against the idea of blocking any websites in general. A spokesperson for the provider clarified that KPN does not think it is up to them to "determine what is good and what is bad." The company would want to see "net neutrality" instead.
Last Wednesday, the European Commission ruled that all RT channels, as well as Sputnik, be banned in all 27 member states over allegations of "systematic" disinformation regarding Russia's military operation in Ukraine.
Commenting on the move, the EU's top diplomat, Josep Borrell, said that "systematic information manipulation and disinformation by the Kremlin is applied as an operational tool in its assault on Ukraine." The official went on to claim that the Russian outlets posed a "significant and direct threat to the Union's public order and security."
Meta, Google, YouTube, Twitter and TikTok are complying with the ban already, not displaying RT and Sputnik's material in the EU member states.
On February 24, Russia launched a military offensive against Ukraine, with President Putin citing the need to "demilitarize and denazify" the country as well as to prevent Kiev from being dragged into NATO. Moreover, according to the Russian president, the Ukrainian government's policies toward the Russian-speaking population in the Donbass republics were tantamount to "genocide." Ukraine and the West, however, suspect that the Kremlin in fact wants to install a pro-Russian puppet government in Kiev, coming up with pretexts for an aggressive and "unprovoked" war.
You can share this story on social media: