Major EU nation ditches Covid-19 passports, face masks
France to scrap health-certificate and face-mask requirement for attending public venues from March 14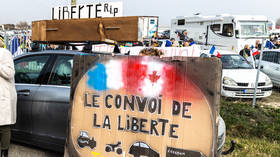 Starting March 14, people in France will no longer need to present a Covid-19 passport to attend indoor public venues, French Prime Minister Jean Castex announced on Thursday in an interview with TF1.
The head of the French cabinet said the situation with the pandemic was improving "thanks to our collective efforts," allowing the country to lift some restrictions.
Face masks will no longer be mandatory in less than two weeks in France, except for passengers on public transport, the official said.
Elderly people will still need to show proof of vaccination to access elderly home care, Castex said, while caregivers will have to be vaccinated to work there.
In the same interview, the prime minister discussed details of the plan to cope with the fallout from the Russian military action in Ukraine and Western sanctions imposed in retaliation.
President Emmanuel Macron on Wednesday announced that the country will take steps to make its economy more resilient, as he delivered a speech to the nation. He said he will work to protect France's most vulnerable industries by finding new supply routes and markets for them.
You can share this story on social media: