Blinken to begin six-day Europe trip
US Secretary of State will visit Belgium, Poland, Moldova and Baltic countries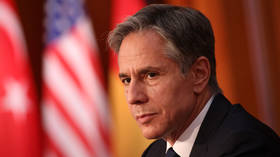 Antony Blinken will travel to Europe for consultations in the wake of the Russia-Ukraine military conflict, the US Department of State announced on Wednesday. During his six-day trip from March 3 to 8, the US Secretary of State will visit Belgium, Poland, Moldova, Lithuania, Latvia and Estonia.
"The trip continues extensive consultations and coordination with our NATO Allies and European partners about the Russian Federation's continued premeditated, unprovoked, and unjustified war against Ukraine," the official announcement on the Department of State website states.
According to the plans, Secretary Blinken will begin his trip by arriving in Brussels, Belgium to participate in NATO Foreign Ministerial and G7 Ministerial meetings, as well as to conduct additional meetings with his EU counterparts to discuss the Russian invasion.
On March 5, Blinken is to travel to Poland and meet the country's leaders and discuss further security assistance and humanitarian aid for Ukrainian refugees. After that, he will move to Chisinau to meet Moldova's top-ranking officials and to address further efforts to receive and help refugees, as well as the US support for their country.
On March 6 the Secretary of State is to meet with Lithuanian officials in Vilnius, then on March 7 he'll arrive in Riga for consultations with the Latvian authorities, and will conclude his trip in Tallinn, meeting with the Estonian president, PM and Foreign Affairs minister. In the Baltic states, the parties will discuss help for Ukraine, ways to strengthen NATO defenses, as well as deeper economic and energy cooperation between these countries and the US.
Russia launched its "special operation" in Ukraine last Thursday in order to "denazify" and demilitarize the neighboring state. According to Moscow, it was the only way left to protect the breakaway regions of Donetsk and Lugansk. Ukraine has denied any plans of a full-scale assault on Donetsk and Lugansk, while denouncing Moscow for waging an unprovoked war against it.
You can share this story on social media: