Boeing impacted by sanctions against Russia
The aircraft manufacturer has been using giant Russian cargo planes to transport supplies to its plants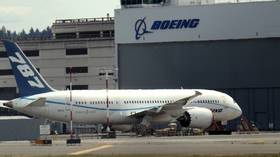 American multinational corporation Boeing may be impacted by the Biden administration's ban on Russian aircraft in US airspace, Bloomberg reported on Wednesday.
Boeing had been contracting giant Antonov An-124 cargo planes, operated by the Russian Volga-Dnepr Group, to move supplies to its plants in the US, potentially meaning the new restrictions will limit the American company's ability to operate out of its base in Washington.
"We work closely with our wide range of supply chain and logistics partners to manage through any potential impacts," Boeing told Bloomberg in response to the airspace ban. Volga-Dnepr has not issued a statement on the matter.
Since early 2021, the US Transportation Department has granted authorization for Volga-Dnepr to operate at least, 27 flights, most on behalf of Boeing, according to regulatory filings. The latest request filed with the agency, on February 24, showed the Russian company had requested permission for six flights by April 4 to move materials from a Florida supplier.
Using Volga-Dnepr's cargo planes is the only way "to perform the services in question within the set schedule," as ensuring swift deliveries is crucial if Boeing is to ensure its production schedule is not disrupted, it said.
The world's largest production air freighter, the Antonov An-124, was designed in Ukraine and built in Russia. The only other civil operator of AN-124 is Antonov Airlines, based near Kiev, but the status of its aircraft is currently unknown. Its sole AN-225, a larger version of the cargo plane, was reportedly damaged beyond repair during clashes between Ukrainian and Russian forces at Hostomel Airport, northwest of the capital.
You can share this story on social media: