French president says he will remain in contact with Putin
Emmanuel Macron signaled "a new era" for Europe and condemned Russian actions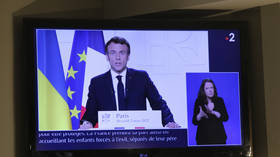 French President Emmanuel Macron promised to remain in contact with Russian President Vladimir Putin in a televised speech on Wednesday evening, addressing the French nation.
Macron strongly condemned Russian aggression and supported the Ukrainian people, warning of a "new era" for Europe as a whole, and announced possible protective measures for the economy.
"It is alone and deliberately that President Putin has chosen the war. This war is not a conflict between NATO on the one hand and Russia on the other. Russia is not attacked, it is the aggressor," he stated, describing Moscow's "brutal attack" and "unsustainable propaganda." However, he vowed to remain in contact with Putin in an effort to convince him to "to prevent the contagion and spreading of the conflict."
"We are not at war with Russia. Today we stand with all Russians who, refusing to allow an unworthy war to be waged in their name, have the spirit of responsibility and the courage to defend peace, and who make this known in Russia and elsewhere," he added.
Macron also warned about the effects of war that would inevitably be felt across France and Europe as a whole, as agriculture, industry and many economic sectors depending on imports from Russia and Ukraine would be at risk.
In order to curb the impact, he said French authorities would create a "plan of economic resilience" within a few days. He also announced that France would host a summit in Versailles on March 10 and 11, when European leaders would discuss energy independence and defense.
According to Macron, the events in Ukraine and sanctions against Russia will have lasting consequences for the continent as a whole, signaling the "change of an era." At the same time, he praised his European colleagues for the "unity and determination" demonstrated in response to the conflict.
"Our Europe demonstrated a remarkable unity, but now it has to accept to pay the price for peace, liberty, democracy," he said.
He also promised that France would play its part and welcome Ukrainians displaced by war, including children separated from their parents.
The speech comes as the presidential campaign in France is about to begin, but has nothing to do with the internal politics, Macron's office confirmed. The president has not officially declared so far that he will run for re-election despite there being just two days left until the deadline, but it is extremely unlikely that he will refuse to enter the race.
Macron's ratings have gone up over the past few weeks, as his handling of the Russian-Ukrainian crisis and related problems have been viewed positively by the French.
You can share this story on social media: