France detains Foreign Legionnaires on Ukraine-bound bus – media
Paris police have reportedly arrested soldiers who were suspected of trying to join Kiev's fight against Russia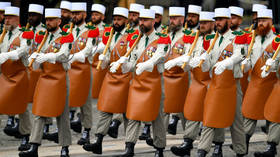 Fourteen French Foreign Legionnaires of Ukrainian origin have reportedly been arrested in Paris on suspicion that they were traveling to fight for their native country against Russia.
Police stopped a Ukraine-bound bus on Tuesday evening and found that 14 of the 30 passengers were Foreign Legion soldiers, France's TF1 media outlet reported. The 16 civilians were released and investigators found that five of the Ukrainian-born legionnaires had been absent from their units without permission. The other nine soldiers had been given leave for 15 days to go to Poland and find family members who have fled Ukraine.
Neither the deserters nor the military personnel on leave were allowed to go to Ukraine. Those who were granted time off to travel to Eastern Europe were prohibited from entering Ukraine under a protocol that the Legion has had in place since Russia's war with Kiev began.
The bus was allowed to resume its journey after passenger identities were checked. Police did a thorough search of the vehicle for weapons and found only blankets and "basic equipment," according to the media report.
NATO member nations have allowed civilians to fight for Ukraine as volunteers. In fact, UK Foreign Secretary Liz Truss has encouraged Britons to join the fight. Ukrainian President Volodymyr Zelensky signed a decree on Saturday forming an international legion to fight alongside government forces.
However, the US and other NATO members have pledged not to send their own troops to fight in Ukraine, apparently seeking to avoid an escalation into a wider war with Russia. Moscow launched its invasion last week, pledging to "demilitarize and denazify" Ukraine.
About 700 of France's Foreign Legion members are originally from Ukraine. The force is a branch of the French Army and has about 8,000 men.
You can share this story on social media: