Turkey points fingers at Ukraine in fresh push for EU membership
President Erdogan urged the bloc to show the same "sensitivity" it demonstrated for Ukraine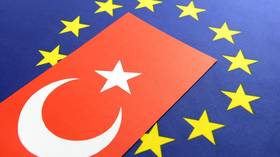 Turkey's President Recep Tayyip Erdogan has called upon the EU to show the "same sensitivity" for the country's membership aspirations it demonstrated for Ukraine, which has been hit by Russia's large-scale attack.
"We appreciate the efforts to get Ukraine into the EU. But I say to these EU members: Why are you still worried about taking Turkey into the EU? Show the same sensitivity for Turkey as you do about Ukraine," Erdogan said on Tuesday.
Will you put Turkey on your agenda when someone attacks [us] too?
Kiev has renewed its push for EU membership amid the war in Ukraine, launched last Thursday. Ukrainian President Volodymyr Zelensky lodged a formal membership bid on Monday, urging the bloc to take the country in as soon as possible. Top EU officials, however, have warned the accession process could take "years" for Ukraine.
Speaking at the European Parliament the following day, Zelensky said the EU would become "stronger" with Ukraine, urging the MEPs to "prove" they are European enough. Turkey's Erdogan said he was highly impressed with the speech of his Ukrainian counterpart.
"We applaud Ukrainian President Volodymyr Zelensky at the European Parliament. That was very good," he said.
Turkey has long aspired to become an EU member, originally launching its bid back in 1987. The process proved to be extremely painstaking, with the country achieving a formal candidate status only in 1999. Little to no progress has been made since then, as Ankara has not met the political and economical criteria outlined by the bloc for it to become a full-fledged member.
The accession negotiations have been stalled since 2016, with Turkey-EU ties gradually deteriorating over Ankara's crackdown following the botched coup d'état attempt and tensions over migrant influx.
Erdogan also took a jab at the ongoing inpour of foreign military aid to Ukraine, noting that Turkey is a NATO country, and wondered whether it would receive such weaponry as well. "Why don't you give the military equipment needed by Turkey?" he said.
Multiple western countries have supplied Ukraine with assorted weaponry lately, with more pledging to deliver amid Russia's attack. Moscow said the operation was the only option left to protect the breakaway republics of Donetsk and Lugansk in Ukraine's east from attacks by Kiev. Ukrainian authorities branded the attack unprovoked, insisting they had not planned to re-capture the republics that split after the 2014 Maidan events by force.
You can share this story on social media: