US task force to target Russian oligarchs
President Joe Biden has threatened to seize the assets of 'corrupt leaders' in line with European nations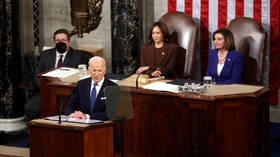 The United States Department of Justice (DOJ) is assembling a task force to "go after the crimes of Russian oligarchs," investigating them in the wake of the conflict in Ukraine, President Joe Biden announced on Tuesday.
During his first State of the Union address, Biden warned that America will target "Russian oligarchs and corrupt leaders who have bilked billions of dollars off this violent regime," receiving a standing ovation from Democrats and Republicans.
Discussing oligarchs, in line with America's European allies, Biden stated that the US will begin to "find and seize their yachts, their luxury apartments, your private jets," in pursuit of their "ill-begotten gains."
Biden did not provide any more details on the DOJ task force, and a spokesperson for the department has not provided details so far.
The announcement of the task force came alongside Biden's statement that the US is closing American airspace to all Russian flights in a bid to isolate the country and add "an additional squeeze on their economy."
In a comment seemingly directed at Russian President Vladimir Putin, Biden said that "he has no idea what's coming," citing how "the ruble has lost 30% of its value" and the "Russian stock market has lost 40% of its value."
Biden's position comes after America joined with NATO allies, the UK and the EU in imposing targeted sanctions on Russian individuals and entities, condemning the invasion of Ukraine.
Putin and Russia's Permanent Representative to the United Nations Vasily Nebenzya have defended the military incursion in Ukraine, claiming that Moscow is seeking to "demilitarize" and "denazify" the country's government.
You can share this story on social media: