German ex-chancellor's staff quit over his ties to Russia – reports
The staffers reportedly left in response to Gerhard Schroeder's refusal to vacate posts at the Rosneft and Gazprom energy giants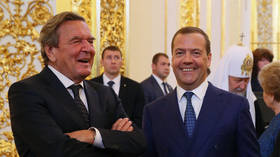 Gerhard Schroeder, a German social-democratic politician who served as the country's chancellor from 1998 to 2005, has had all his staff walk out on him. The German media claims that the four quit after Schroeder refused to vacate his posts at two Russian energy companies.
According to Germany's Pioneer news portal, Albrecht Funk who had served as Schroder's taxpayer-funded office manager for over 20 years, stepped down last week, after his boss refused to quit his posts in Russia's Rosneft and Gazprom energy companies despite Moscow's invasion of Ukraine.
Speaking to Reuters, Funk said that, along with him, two secretaries and a driver had asked to be moved to other jobs within the chancellery. Funk would not reveal their reasons to the outlet, however.
Neither Schroeder himself, nor the chancellery, has yet issued any comment regarding the issue.
The former chancellor is known to be on friendly terms with Russian President Vladimir Putin. Moreover, since leaving office in 2005, he has held multiple positions in Russian or Russia-affiliated businesses.
His closeness to Moscow has come under increased scrutiny at home over the past week, after Russia launched what it described as a "special military operation" in Ukraine. Politicians from Schroeder's own SPD party, as well as other political forces in the country, have been putting pressure on him to sever his ties with Russian firms.
While criticizing Russia's invasion in general in a statement last week, Schroeder also pointed out that "both sides made mistakes," apparently suggesting that NATO's eastward expansion had played a role, too.
However, he has so far refused to yield to the pressure over the posts he holds in Russian companies. He argued that Europe should not completely cease relations with Russia despite the current escalation.
Schroeder's stance has seen some in Germany demand that all the benefits and perks he enjoys as a former chancellor be taken away from him.
On February 24, President Putin announced the launch of a military offensive in Ukraine, which he said was intended to "demilitarize and denazify" the country, and protect the Russian-speaking population of the Donbass republics. Ukraine and its Western allies have dismissed these claims as merely a pretext for waging an aggressive war against a sovereign state, and insist that Putin seeks to install a pro-Russian puppet government in Kiev.
You can share this story on social media: