China responds to idea of Japan hosting US nukes
Beijing urges Tokyo to 'deeply reflect on its history' after former PM suggests hosting American nuclear arms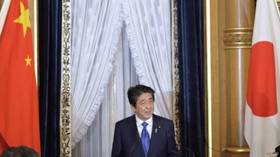 Chinese officials have rebuked Japan over former prime minister Shinzo Abe's call to ease the country's non-nuclear principles and consider hosting strategic US weapons to boost security amid rising geopolitical tensions.
"Japanese politicians have frequently spread fallacies related to Taiwan and even blatantly made false remarks that violate the nation's three non-nuclear principles," Chinese Foreign Ministry spokesman Wang Wenbin told reporters on Tuesday.
Those principles include bans on possessing, producing or permitting the introduction of nuclear arms. Japan, the only country ever to be attacked with nuclear weapons, adopted a pacifist constitution after its crushing defeat in World War II.
However, Abe said in a television interview on Sunday that Japan should no longer consider it "taboo" to consider having nuclear weapons on its soil. He noted that multiple NATO members host US strategic weapons under nuclear-sharing agreements with Washington, adding, "We need to understand how security is maintained around the world."
Abe has also called for the US to commit to intervening militarily if Taiwan is attacked by China, ending its strategy of "ambiguity" on the issue. A military conflict between China and Taiwan would constitute a security emergency for Japan.
Wang said Japan's leaders must be "cautious in words and deeds on the Taiwan issue to stop provoking trouble." He added, "We strongly ask Japan to deeply reflect on its history."
As many as 20 million Chinese were killed during World War II. Many of those deaths occurred in massacres of civilians by Japanese troops.
"Japan launched a war of aggression against China and colonized Taiwan for half a century, committing unspeakable crimes," Wang said. He suggested that some Japanese factions "are not reconciled to their defeat and are still coveting Taiwan."
China's state-run Global Times newspaper opined in an editorial on Monday that combining Japan's "right-wing madness" with the country's weapons-manufacturing potential would lead to devastating consequences, including "an escape of militarism from the cage that has trapped it for nearly 80 years." The outlet added, "It is not only ironic, but also a huge real risk, that a group of people in the only country in the world that was bombed by atomic bombs would call for an invitation to the culprit to deploy nuclear weapons in their own territory."
Japanese Prime Minister Fumio Kishida told lawmakers on Monday that the country won't consider violating its non-nuclear principles. He called the idea of a nuclear-sharing agreement with the US "unacceptable."
You can share this story on social media: