Hillary Clinton compares Ukraine to Afghanistan
Former presidential candidate calls US arming of Mujahideen in 1980s 'the model' for helping Ukraine defeat Russia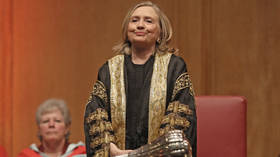 Hillary Clinton has likened the Russian military operation in Ukraine to the Soviet Union's 1979 invasion of Afghanistan, saying a similar outcome might be achieved by helping to arm Kiev's resistance just like Washington backed Mujahideen fighters against its Cold War rival.
"Remember, the Russians invaded Afghanistan back in 1980 (sic)," the former US presidential candidate and ex-secretary of state said on Monday in an MSNBC interview. "And although no country went in, they certainly had a lot of countries supplying arms and advice and even some advisers to those who were recruited to fight Russia."
As Clinton noted, the Afghanistan war "didn't end well" for the Soviet Union, despite its status as a military superpower. "There were other unintended consequences, as we know," she added with a smile – apparently referring to the fact that arming radical Islamists in Afghanistan gave rise to Al-Qaeda and led to 9/11 attacks in the US – "but the fact is that a very motivated and then funded and armed insurgency basically drove the Russians out of Afghanistan."
The CIA's "Operation Cyclone" program funneled billions of dollars in weaponry to Islamist fighters in Afghanistan in the 1980s. In fact, aid to the Mujahideen continued to flow in even after Soviet troops completed their withdrawal in 1989, helping the insurgents to battle Afghan government forces in a civil war.
Clinton, who has long accused Russia of helping Donald Trump steal the 2016 presidential election from her, conceded that the Afghanistan-Ukraine comparison is problematic. For instance, the terrain and urban fighting in Ukraine are nothing like what the Soviets encountered in Afghanistan.
But I think that is the model that people are now looking toward, and if there can be sufficient armaments that get in . . . that can continue to stymie Russia.
Weaponry should be supplied to both Ukrainian government forces and volunteer fighters, Clinton argued. She said arms shipments should be able to get through Ukraine's borders with some neighboring countries.
"Let's be clear that Russia has overwhelming military force, but of course, they did in Afghanistan, as well," Clinton said. She added that, even with ample air power, it took years for Russia to defeat anti-government forces in Syria.
Clinton's stint as secretary of state had ended by the time Russia intervened in the Syrian civil war in 2015. Also a former senator and first lady, she urged President Joe Biden's administration to provide sufficient arms to Ukrainian fighters and to "keep tightening the screws" against Russia.
You can share this story on social media: