EU Parliament condemns Russia, commits to NATO
The resolution calls for restrictions on Russian oil and gas, and increased arms flows to Ukraine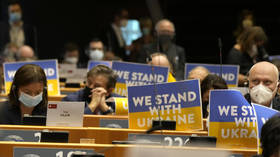 The European Union Parliament on Tuesday voted overwhelmingly in favor of a resolution condemning Russia's military offensive against Ukraine, and calling for restrictions on Russian energy imports. However, a minority of MEPs voted against the resolution, as it includes explicit commitments to the NATO alliance and "militarization."
The Resolution on Russian aggression against Ukraine passed with 637 votes in favor, 13 against and 26 abstentions. Among the resolution's 46 calls and demands are condemnations of Russia's invasion of Ukraine, a call for the "scope of sanctions to be broadened," and calls for the banning of Russian oil and gas imports, as well as the expulsion of Russia from the SWIFT banking network.
However, the resolution also includes a measure that "welcomes the unity" between the EU and NATO, "encourages the strengthening of NATO's enhanced forward presence" and "calls for common military exercises to be launched." Another measure calls for increased "cybersecurity assistance to Ukraine," while another "calls on Member States to accelerate the provision of defensive weapons to Ukraine."
Among the minority of MEPs who voted against the resolution were Ireland's Clare Daly and Mick Wallace, both well known leftist anti-war figures. In a joint statement, Daly and Wallace said that while they "wholeheartedly support" the condemnation of Russia, they "sought to remove" elements supporting increased defense spending, arms shipments, and partnership with NATO, among other lines.
Our position on today's Resolution on Russian aggression against Ukraine, and why we must vote against.There is no military solution. No to Russia's war in Ukraine; no to military escalation on the European continent. Dialogue and peace is the only way forward... pic.twitter.com/oKzKsBv2mt

— Mick Wallace (@wallacemick) March 1, 2022
"We have consistently opposed the militarization of the EU, the expansion of NATO, and the erosion of Ireland's neutrality within the EU's common defence structures," the statement read. "Our stance is in the tradition of Irish neutrality and international support of peace."
The EU's decision on Sunday to send €500M ($555 million) in arms and aid to the Ukrainian military was described by European Commission President Ursula von der Leyen as "a watershed moment" for the bloc. Five EU countries are neutral – Austria, Ireland, Finland, Malta and Sweden – and the decision could potentially call that neutrality into question.
Finland, which borders Russia, has opted to supply Ukraine with weapons and lawmakers there are already debating NATO membership. Although both countries sat in on a NATO summit last week, Swedish Prime Minister Magdalena Andersson said that "in a situation like this it is important that Sweden's long-standing security policy" of avoiding military alliances "remains firm."
You can share this story on social media: