Drugmaker to pay record sum in opioid settlements
Johnson & Johnson, along with three distributors, must pay out to local governments across the US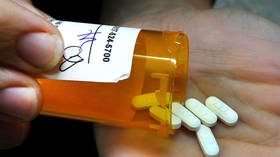 Johnson & Johnson, as well as distributors AmerisourceBergen, Cardinal Health and McKesson, announced on Friday that they would pay out a combined $26 billion to state and local governments in the US affected by the ongoing opioid epidemic. The payouts, which combined make up the largest opioid settlement in history, will keep the pioneer of these drugs out of court.
The settlement plan was announced amid a raft of opioid lawsuits last year, but depended on enough state and local governments coming on board. On Friday the companies announced that they had secured enough participants and would start distributing the money in April.
According to law firm Motley Rice, more than 20,000 communities will receive payouts from the $26 billion settlement, with 90% of the funds earmarked for "treatment, education, intervention, screening, recovery and prevention efforts that are needed to curb the crisis." The 3,200 municipalities that brought the litigation against the drug firms cover 90% of the US population.
However, the settlement means that the vast majority of the US will not be able to take further legal action against Johnson & Johnson and the distributors.
Separate lawsuits brought by municipalities in Washington and West Virginia are in the trial phase, and the drug companies earlier this month reached a separate $590 million settlement with more than 400 Native American tribes and organizations.
Opioid addiction has ravaged the United States in recent years. Overdose deaths topped 100,000 annually in 2021, with opioids responsible for more than 75,000 of these deaths, up from 56,000 the year before. According to separate figures from American Families Against Fentanyl, some 78,795 Americans aged between 18 and 45 died from overdosing on this powerful synthetic opioid between 2020 and 2021. Fentanyl, the group claims, kills more 18- to 45-year-olds than suicide, Covid-19, and car accidents, and should be declared a weapon of mass destruction.
While much of the Fentanyl in the US enters the country illicitly, blame for the addiction crisis has been laid at the feet of drugmakers. Two major opioid firms, Teva Pharmaceuticals and Purdue Pharma, have been on the receiving end of multibillion dollar lawsuits in recent years, but J&J pioneered the development of these drugs back in the 1980s, and in 2015 was the US' main supplier of the raw ingredients used to make pain pills like Oxycontin.
"As monumental as this accomplishment is, we must remember that we are still only in the beginning phases of this complex litigation," Motley Rice attorney Joseph Rice wrote in a blog post on Friday. "The opioid supply chain is massive and numerous other companies and parties have yet to answer for their role in creating this crisis of addiction."
You can share this story on social media: