Americans get more bad news on inflation
An inflation gauge monitored by the US government is at a 40 year high, and the Ukraine situation could make matters worse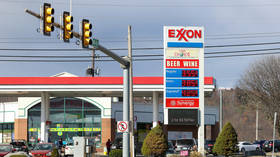 An inflation gauge monitored by the US Federal Reserve made a year-to-year jump of 6.1% in January, according to data released by the Commerce Department on Friday. The increase is its biggest since 1982, and it's the latest sign that Americans will continue to be impacted by the rising costs of goods.
The figure comes from the personal consumption expenditures (PCE) price index. According to the data, consumer spending did rise in January over the previous month, despite incomes largely staying flat. Consumers upped their spending by 2.1% while average incomes only rose by an average of 0.1%. In December, consumer spending had fallen 0.8%.
American consumers could be hit with more bad news as the Ukraine crisis continues. When announcing his latest batch of economic sanctions on Russia over the country's decision to attack its neighbor, US President Joe Biden acknowledged that Americans' wallets could soon be affected.
In his speech, Biden said there would be a cost for both Russia and the US, but his administration is working to push back against potential energy price bumps, which would continue a trend Americans have faced for a year now. Gas currently stands at an average of $3.57 a gallon – a jump from $2.68 per gallon a year ago.
Moscow's military assault on Ukraine could also lead to complications in oil exports from Russia and lead to more price hikes for Americans, experts have warned. Products made in Ukraine, like wheat and aluminum, have also seen their rates rise, the Associated Press noted on Friday.
You can share this story on social media: