Inquiry into UK govt's 'Partygate' publishes initial findings
Downing Street gatherings 'represent a serious failure' to observe even the general standards expected from the British public during lockdowns, Sue Gray has concluded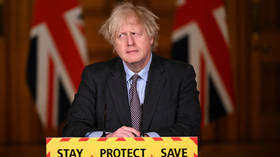 Senior civil servant Sue Gray has published a 12-page report following her inquiry into allegations that UK government offices, including 10 Downing Street, held lockdown-breaching parties and events on several occasions during the pandemic. Among her findings, Gray noted there were "failures of leadership and judgment by different parts of No 10 and the Cabinet Office at different times."
"It is not for me to make a judgment on whether the criminal law has been broken; that is properly a matter for law enforcement," Gray wrote. However, at least some of the parties "should not have been allowed to take place" as they represented "a serious failure" to follow even the general lockdown rules, she concluded.
The report published on Monday was limited to focusing on four events out of 16 she identified as falling within the scope of her inquiry; the Metropolitan Police last week asked Gray to only make "minimal reference" to any potentially law-breaking parties as the force itself has launched a criminal investigation into several of the events. Police had previously declined to investigate the events, but U-turned after Gray's team submitted material compiled as part of the civil inquiry.
The document also called on the government to take some immediate steps to address concerns raised in Gray's report, including the issue of excessive drinking "not appropriate in a professional workplace at any time." She underlined that "this does not need to wait for the police investigations to be concluded."
Besides some practical recommendations, such as to keep the Downing Street garden "primarily" for the PM and residents' private use and not as a workplace extension, the report also pointed to failures in leadership structures within the prime minister's office. In Gray's opinion, these "have not evolved sufficiently to meet the demands" of increased staff numbers in recent years.
Touching on the limited scope of Monday's publication on foot of the Met Police request, Gray said this meant "it is not possible at present to provide a meaningful report setting out and analyzing the extensive factual information I have been able to gather."
The report represents the latest chapter in the ongoing saga about the alleged involvement in – or awareness of – the prime minister regarding some of the gatherings.
Responding to the report's release in the House of Commons, Johnson apologized for the failures outlined by Gray and "the way this matter has been handled."
Addressing a packed House of Commons, Johnson said "I, of course, accept Sue Gray's general findings in full," adding that it is a moment "to look at ourselves in the mirror" and to learn. The PM pledged to make changes to the leadership structures of his office, as well as to make sure that codes of conduct would be "properly enforced."
Amid shouts for him to "resign" from opposition MPs and criticism from his own backbenchers, Johnson declared he will continue on as prime minister, stating that he believes "this government can be trusted to deliver."
You can share this story on social media: