Biden says US will send troops to Eastern Europe in 'near term' – media
Washington will move a small contingent of troops to the region near Russia as tensions run high over Ukraine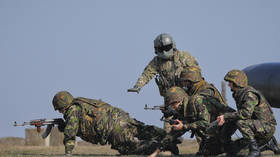 US President Joe Biden has announced that Washington will boost its military presence on Russia's doorstep by moving more troops to Eastern Europe in the near future. The US leader made the remark while speaking to the media on Friday evening.
Biden provided an update on the situation in Ukraine after he emerged from Air Force One.
Asked if he had decided "how soon" he "would be moving US troops to Eastern Europe," Biden reportedly said that he would sent a small number of American servicemen to the region "in the near term."
"I'll be moving US troops to Eastern Europe in (or he possibly says and) the NATO countries in the near term. Not a lot," CBS News' Senior White House Correspondent Weijia Jiang reported.
From the WH press pool report—POTUS: "I'll be moving US troops to Eastern Europe in (or he possibly says "and") the NATO countries in the near term. Not a lot."

— Weijia Jiang (@weijia) January 28, 2022
On Monday, the Pentagon announced that some 8,500 American troops had been placed on "heightened alert" to deploy to Eastern Europe.
Speaking at a briefing earlier on Friday, US Secretary of Defense Lloyd Austin said that these troops would be used to "reinforce security on NATO's eastern flank," adding that a hypothetical Russian attack would face a "unified" response from the US-led military bloc. While Ukraine is not a NATO member, Austin warned Moscow about retaliation in case it attacks a member of the alliance, saying: "An attack against one NATO member is an attack against us all."
However, he appeared to rule out the involvement of US troops in any military action in Ukraine itself. Biden "does not intend to put troops into Ukraine for combat operations," the Pentagon chief said.
Russia has consistently denied that it has been gearing up to invade Ukraine, and has signaled no intention of attacking any member of the military bloc.
While US media and some politicians in the West have been warning of an "imminent" invasion, claiming that Russia has been "amassing" troops on the border with Ukraine to strike any minute, it was Ukrainian President Volodymyr Zelensky who stepped in to pour cold water on the speculation.
Speaking to foreign media on Friday, Zelensky blasted the media coverage as "slightly imbalanced," accusing outlets of stirring up panic. "Today we are not seeing any greater escalation than it has been before," he noted.
You can share this story on social media: