'A great asset': Why the US is losing the war on inflation
Rising prices may be the Democrats' undoing in midterms, so no wonder Joe Biden gets riled up when asked about it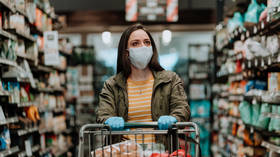 US President Joe Biden landed in hot water after insulting a Fox News correspondent in a hot mic gaffe. Peter Doocy appeared more amused than angry, however, over being called a "stupid SOB" by the big man in the Oval Office. And with most of the US media on the Democrats' side, the president will hardly be branded an enemy of the free press over the incident, unlike his Republican predecessor.
The invective reaction was triggered by a question on inflation and whether Biden considered it a liability for the midterm elections. "That's a great asset, more inflation," the president mused, before dunking on Doocy's mental capacities.
The response arguably demonstrated how big of a concern the rise of consumer prices at a rate unseen in decades is for his party. The US consumer price index climbed 7% last year, according to Labor Department data, marking the largest 12-month gain since June 1982.
You can share this story on social media: