France says Russia and Ukraine to meet soon, sees 'path to de-escalation'
The Wednesday meeting in Paris, yet to be confirmed by Moscow, was reported by AFP citing the Élysée on Monday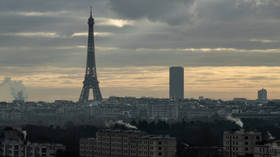 Officials from Moscow and Kiev will meet in Paris on Wednesday, an aide to French President Emmanuel Macron reportedly told state news agency AFP on Monday on the condition of anonymity, adding that he sees a "path to de-escalation" ahead of the expected "Normandy Four" meeting between France, Germany, Russia, and Ukraine.
Macron "thinks there is space for diplomacy, a path to de-escalation," the source apparently added, going on to say that Macron would speak with Russian President Vladimir Putin "in the coming days," but failing to specify if it would happen before or after the Paris meeting.
The meeting itself would see one of Russia's deputy prime ministers and a senior aide to Ukrainian President Volodymyr Zelensky sitting down at the negotiating table together with diplomatic advisers to Macron and German Chancellor Olaf Scholz, according to the aide. Moscow has not confirmed whether it's taking part in the talks and who would be representing Russia there at the time of writing.
The French official told journalists that Paris is "very worried" about Russia supposedly building up troops on the border with Ukraine and would very much like to "avoid creating any ambiguity or creating any additional volatility."
According to the aide, France has a diplomatic "solution" for the ongoing tense situation in Europe. It would involve the Ukrainian parliament delaying legislation on the status of the breakaway eastern Ukrainian territories, which Moscow says violates Kiev's previous commitments under the Minsk Agreements.
Russia, in turn, is expected to back some "humanitarian measures," such as prisoner exchanges between Ukraine and the self-proclaimed Donetsk and Lugansk People's Republics, which have been de-facto independent from Kiev ever since the civil war of 2014, but not officially recognized.
Paris would also push for a "public statement from the Russians about their intentions that reassures everyone," the French official said. Moscow has repeatedly denied harboring any plans of attacking Ukraine – something that Washington and its European allies have been accusing Russia of over the recent months.
However, after Washington and London ordered the evacuation of their embassies' staff in Kiev on Monday, top Ukrainian officials went on the record to say there was "no panic" and that there was no evidence of an impending all-out invasion.
Kiev has confirmed it will take part in the meeting in Paris over the weekend. The head of the Ukrainian president's office, Mikhail Podolyak, told the Ukrainian UNIAN news agency on Saturday that the sides had agreed to hold the "Normandy Four" meeting on January 26.
While Moscow has not officially confirmed the talks, a source within the Russian presidential administration told TASS news agency that the administration's deputy head, Dmitry Kozak, might take part in the talks.
The news comes as Russia is still waiting for a written US response to its security proposals aimed at easing the tensions in Europe. Washington is expected to present the response later this week, according to the US State Department.
You can share this story on social media: