British counter-terrorism police arrest 2 people over Texas synagogue attack
The now-deceased Texas hostage taker was previously identified as British citizen Malik Faisal Akram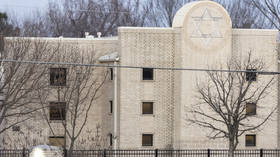 Police in northwestern England announced the arrest of "two teenagers" over a possible link to Saturday's incident in Colleyville, Texas which saw a British man taking people hostage in a synagogue.
Greater Manchester Police announced on Sunday evening that the two teenagers had been arrested in South Manchester "in relation to the incident" and "remain in custody for questioning."
The statement concluded that the UK authorities would continue to assist their US counterparts in the investigation of the incident.

British citizen Malik Faisal Akram, 44, was identified on Sunday as the suspect who was shot dead during the rescue of four hostages taken captive in the Congregation Beth Israel synagogue in Colleyville. None of the hostages, one of whom had earlier been released by the suspect, were hurt.
During the incident, Akram allegedly made reference to Aafia Siddiqui, a Pakistani neuroscientist currently serving an 86-year prison sentence in the US for attempting to murder US soldiers in Afghanistan. While the suspect reportedly referred to the woman as his sister, Siddiqui's biological brother denied having any connection to the incident through his lawyer. An attorney for Siddiqui herself claimed that the woman condemned the attack as well.
During his 12-hour standoff with US law enforcement, Akram reportedly demanded that Siddiqui be released, a plea shared by many activists in Pakistan, who see the woman as a political prisoner and an innocent victim of the War on Terror.
While the FBI originally said that the suspect appeared to be focused on "one issue" which was not "specifically related" to the Jewish community, UK Foreign Secretary Liz Truss condemned the attack as an "act of terrorism and anti-semitism."
US President Joe Biden also called the incident an "act of terror" and said the country would "stand against anti-Semitism and against the rise of extremism."
"I don't think there is sufficient information to know why he targeted that synagogue, why he insisted on the release of someone who's been in prison for over 10 years, [or] why he was using anti-Semitic & anti-Israeli comments," he said.
You can share this story on social media: