Cops faked forensic reports to coerce confessions
The trick is legal, but contrary to the spirit of proper policing, the Virginia Beach PD said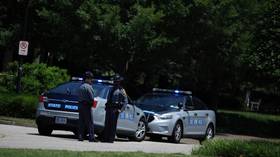 The Virginia attorney general's office made the Virginia Beach police stop using fake forensic reports linking suspects to crimes to coerce them into confessions. At least five such cases were identified.
Attorney General Mark Herring called the tactics "extremely troubling and potentially unconstitutional" in a Wednesday statement. He also pointed out that cops using it damaged "the good name and reputation" of Virginia forensic scientists working with law enforcement.
While I appreciate that Virginia Beach Police put an end to this practice and cooperated with our investigation, this is clearly a tactic that should never have been used.
The investigation by the AG's Office of Civil Rights identified five cases between March 2016 until February 2020, in which papers falsely purporting to have been produced by the Virginia Department of Forensic Science (DFS) were used by cops.
The fraudulent certificates, two of which included the signature of a fictitious DFS employee, led suspects to believe that they had been forensically linked to crimes. The falsified evidence of guilt was used to extract confessions, cooperation, or convictions, according to the statement.
In one case, a forged document was submitted as evidence to a court in a 2020 bail hearing. The prosecutor who filed it believed the paper to be authentic, a spokesperson for Virginia Beach Commonwealth's Attorney Colin Stolle told The Washington Post. The defendant was given another hearing and granted bond after the prosecutor discovered the truth and reported it to the defense team.
The practice was discovered in April 2021, after an assistant commonwealth's attorney asked the DFS to provide a certified copy of a forged report. Police Chief Paul Neudigate, who was appointed in late 2020, then banned the use of fake forensic papers pending an investigation by Herring's office.
The two-year agreement reached by state prosecutors and the Virginia Beach PD says police officers would no longer use inauthentic documents. All sworn personnel will have to sign on to the new rule. The department pledged to investigate all alleged violations.
Virginia Beach police noted that the use of "inauthentic replica documents" by officers "has consistently been found to be constitutional by both the Virginia Supreme Court and the United States Supreme Court." Its statement acknowledged that the technique "though legal, was not in the spirit of what the community expects of their Police Department."
In the US, police officers are allowed to tell suspects falsehoods to obtain a confession, as long as it doesn't go as far as overbearing the target's will. Illinois last year became the first state to ban cops from lying to minor suspects, who are deemed especially vulnerable to coercion.
You can share this story on social media: