6.6-magnitude quake rocks Mediterranean near Cyprus
A powerful quake struck off the coast of Cyprus in the Mediterranean Sea, the US Geological Survey reports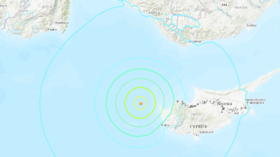 A 6.6-magnitude quake rattled the Mediterranean region, hitting the area to the north-west of Cyprus. The quake's depth was reported at 19.6km (12.1 miles), according to the USGS.
The quake struck at 01:07 GMT, 62km (38 miles) off Paphos, a coastal city in southwest Cyprus with a population of 36,000.
The European Mediterranean Seismological Centre (EMSC) initially put the quake at 6.4-magnitude. The tremor sent ripples across the region, and was reportedly felt in Turkey, Lebanon, Egypt, Greece, and Israel, among other countries.
The Jerusalem Post reported that Israeli police received "dozens of calls on hotlines" following the reports of the quake.
No tsunami warning has been issued.
Though Cyprus sits in a seismic zone and is more prone to the activity than other parts of Europe, large earthquakes in the area are relatively rare. A 5.6-magnitude earthquake was recorded with an epicenter near Kissonerga, Paphos on April 15, 2015 and caused minor damage. Stronger earthquakes were also recorded in August 1999, October 1996, February 1995, September 1961, and September 1953 – many of them also in the Pathos region. The September 1953 earthquake in Paphos killed 40 people and injured over 100 more.
You can share this story on social media: