Twitter deplatforms Republican lawmaker
Conservative firebrand Marjorie Taylor Greene had reportedly tweeted about 'extremely high Covid vaccine deaths'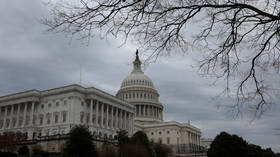 Twitter has permanently suspended Congresswoman Marjorie Taylor Greene's (R-Georgia) personal account for alleged "repeated violations" of its rules regarding Covid-19 misinformation. Greene's congressional account remains active.
In a statement on Sunday, the social media giant confirmed that it had suspended Greene's personal page (@mtgreenee). The company said it had "been clear" that "per our strike system" for the misinformation policy, accounts of repeat offenders would be permanently blocked.
Although Twitter did not clarify what Greene had tweeted to warrant the suspension, the freshman representative said that she had been punished for tweeting "statistics" from the US national Vaccine Adverse Event Reporting System (VAERS).
Greene responded to her suspension by putting out a statement on Sunday via GETTR, the conservative social media platform launched by Jason Miller, a one-time senior adviser to former President Donald Trump.
Twitter is an enemy to America and can't handle the truth. That's fine, I'll show America we don't need them and it's time to defeat our enemies.
In her statement, Greene accused Twitter of punishing her while not taking action against representative Maxine Waters (D-California), who "can go to the streets and threaten violence on Twitter" — a likely reference to Waters' calls in 2018 for Trump's critics to harass Republicans in public.
She also pointed to Vice President Kamala Harris and Ilhan Omar (D-Minnesota) who she said "can bail out rioters on Twitter." That was an apparent reference to Democrats calling for donations to the Minnesota Freedom Fund to help post bail for rioters at Black Lives Matter protests following the 2020 killing of George Floyd in Minneapolis.
According to Fox News, Greene had tweeted on Saturday about "extremely high amounts of Covid vaccine deaths." Greene had previously been suspended from the platform in August after she tweeted about how "vaccines are failing & do not reduce the spread of the virus & neither do masks."
You can share this story on social media: