WATCH: Parliament on fire in Cape Town
Emergency services fighting flames as the roof of the parliamentary building collapses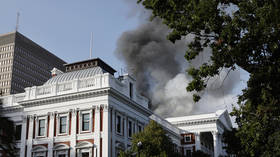 The building of the national assembly in Cape Town, South Africa caught fire on Sunday morning, with flames and black smoke seen from far away.
Flames have been spreading in the building from the fire, which started around 6am, local media reports, citing officials. It has spread to the roof, according to mayoral committee member for safety and security JP Smith.
The official said the blaze is so bad there already are "reports of cracks in some walls." Dozens of firefighters who initially rushed to the scene requested more resources.
With the fire still ravaging, "extensive damage" has been reported. The top floor of the Old Assembly Building, including its gymnasium, has been destroyed. Its roof collapsed, local News24 reported, citing officials.
The flames have spread to some of the oldest parts of the structure. The endangered section houses a historic assembly chamber and a library with valuable collections. Fitted with panels of indigenous stinkwood, it is feared the rooms could be destroyed in a matter of minutes.
Smoke billows from the roof of parliament in footage shot from Government Avenue in the company's Garden. Video: City of Cape Town pic.twitter.com/eAREWGMhQK

— David Chambers (@daveincapetown) January 2, 2022
"The bitumen on the roof is even melting, an indication of the intense heat," the spokesperson for the City of Cape Town's Fire and Rescue Service, Jermaine Carelse, told News24. He also said there are fears the building could fall.
"There have been reports of some walls showing cracks, which could indicate a collapse," Carelse said.
It is believed that the fire started in an office on the third floor. CCTV footage is now being reviewed to determine the cause.
South African President Cyril Ramaphosa visited the scene on Sunday afternoon. While addressing the media outside the burning building, he confirmed that a person had been detained by authorities in connection with the fire. "I believe someone is being held and is being questioned," the president said.
A spokesperson for local police has also said that a 51-year-old man was "taken in for questioning."
The original building of the Houses of Parliament of South Africa dates back to the end of the 19th century. There are also two additional sections, the newest of which was built in the 1980s. In March 2021, the parliament's Old Assembly Building went on fire, and several of its top-floor offices and committee rooms were damaged.
You can share this story on social media: