Thousands flee US towns over fast-spreading wildfires (VIDEOS)
Residents across Boulder County, Colorado have been ordered to evacuate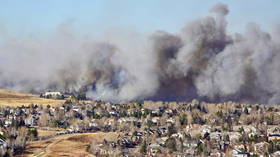 Grass fires fueled by strong winds have triggered evacuation orders for multiple towns in Northern Colorado, where a thick pall of smoke hangs over Boulder County and some reportedly remain trapped in their homes.
The fast-moving fires forced tens of thousands of residents to vacate the area on Thursday, with gusts in excess of 100mph (160kph) helping feed the blaze.
The town of Superior, which has a population of 13,000, was the first to evacuate on the orders of the county's Office of Emergency Management, followed by Louisville, to the north, which is home to 21,000.
Footage and photos circulating online show the vast cloud of smoke and dust enveloping the area, as well as the evacuation in progress, with vehicles seen stuck in traffic as the sky turned an eerie orange. The high winds could also be heard in some videos.
A massive plume of ash could be seen on radar images shared by the Boulder branch of the National Weather Service (NWS), giving some idea of the scale of the flames. The service deemed the situation "life-threatening."
"Multiple structures" had caught fire as the blaze took hold across Boulder County, according to the Wildfire Today news outlet, which reported that some residents had been unable to leave their homes, though it offered no further details.
The Office of Emergency Management had activated the evacuation earlier in the day, after downed power lines ignited fires in several areas, local media reported. Although only two towns had been given formal evacuation orders, the office had told all residents in the area to "leave immediately" if they saw fire.
Local weather forecasts suggested wind speeds would remain high throughout Thursday but likely slow overnight, while the NWS has issued a winter storm warning for the coming days, predicting heavy snows of between 12 and 24 inches (30 and 60 centimeters) across parts of Northern Colorado.
You can share this story on social media: