Pay your debt, Iran tells Britain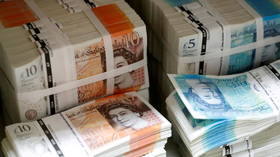 The Iranian Foreign Ministry has called on London to repay its debt to Iran, noting that the UK can no longer present false pretenses for delaying the payment which relates to the purchase of British tanks in the 1970s.
In a press briefing on Monday, Foreign Ministry Spokesman Saeed Khatibzadeh told reporters that Tehran had once again pushed the UK to hand over the £400 million it owes to Iran.
Khatibzadeh said that Iranian Deputy Foreign Minister Ali Bagheri Kani had breached the topic on a visit to London in which bilateral issues were discussed. The minister had reminded London that they could no longer put off the debt repayment under any pretexts, according to Khatibzadeh.
Iranian Foreign Minister Hossein Amir Abdollahian also spoke with his British counterpart, Liz Truss last Monday, Khatibzadeh stated, requesting urgent repayment of the debt.
Britain owes around £400 million to Iran relating to the 1971 purchase of 1,500 Chieftain tanks and armored vehicles by the government of Mohammad Reza Pahlavi, the pro-Western shah who ruled the country until the 1979 revolution.
The UK's state-owned International Military Services delivered 185 tanks before the revolution, but the agreement was revoked following the seizing of the United States Embassy and the hostage crisis which engendered decades of hostility.
While some UK politicians have called for the money to be repaid to Iran, others have said it cannot be used as leverage by Iran for the release of British prisoners held captive by Tehran. Iran suggested Nazanin Zaghari-Ratcliffe, along with other dual nationals, may be released if the UK pays up.
If you like this story, share it with a friend!
You can share this story on social media: