New Covid-19 strain found with altered spike protein – reports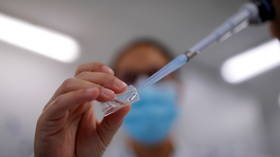 A new Covid strain with unprecedented changes in its spike protein has reportedly been discovered in the northwestern French region of Brittany, according to local media.
The new strain was reportedly detected in people who contracted the virus back in mid-October. It infected a total of 24 people in France, including 18 children attending the same school and six adults who had contact with them, French media reported.
The new strain, however, was so unlike all previously known Covid-19 variants that it took scientists a long time to identify it. "This delay was a mistake," a health official told media outlets after the discovery was first reported by Le Telegramme newspaper on November 11.
Analysis of this strain "did not correspond to anything" previously known, the official said, adding that it resembled neither the profile of the widespread Delta variant, nor those of other Covid-19 strains of concern.
The variant, which has since been called B.1.640, is reportedly missing part of its spike protein. This protein is normally used by the virus to enter human cells and spread the infection through the body. It is unclear if this mutation makes the virus more or less contagious.
The European Center for Disease Prevention and Control (ECDC) added the new strain to its list of "variants under monitoring" on November 11. Authorities in Brittany said they had successfully traced all those infected with the variant, adding that the last reported case was discovered on October 26.
France's Regional Health Agency told Le Telegramme that its investigations indicate "the virus was imported … from abroad." According to some media reports, a resident of Nantes who had been traveling in Africa brought the new strain to the town of Bannalec, where it was subsequently detected.
Think your friends would be interested? Share this story!
You can share this story on social media: