Knife attacks continue to haunt Japanese metro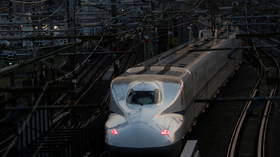 A knife-wielding assailant was overpowered at Fukushima Station in Japan on Monday afternoon, after wounding a middle-aged woman, who requires hospital treatment, in the latest violent incident to plague the Asian nation.
The attack took place just before 4pm local time on Monday, with police responding swiftly to Fukushima Station, overpowering an attacker who had been "rampaging with a knife" near the bicycle storage area, according to media reports.
One woman, believed to be middle-aged, is thought to have suffered a stab wound in the abdomen during the attack and has been transported to the hospital for treatment. The attacker is reportedly in his 50s or 60s and has been detained by police. The station has now been secured following the incident.
The stabbing marks the latest violent attack to plague Japan, coming weeks after a man dressed as the Joker from Batman injured 17 people in a Halloween knife attack on a Tokyo subway train. The assailant, who was 24 years old, told police after his arrest that he wanted to commit murder and be sentenced to death.
An attempt to copycat the attack took place days later, when an individual began pouring flammable liquid on a high-speed train, with the idea of setting the carriage on fire. The train conductor managed to put out the fire before it got out of control and all the passengers traveling in the carriage escaped unhurt.
Think your friends would be interested? Share this story!
You can share this story on social media: