Australia had better prepare for 'sacrifice', Chinese media boss warns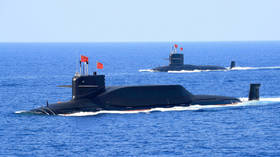 If the Australian military intervenes in Beijing's relations with Taiwan, it had better be ready to "sacrifice" its soldiers to a counter attack, the editor-in-chief of China's state-affiliated Global Times said.
Australian Defense Minister Peter Dutton vowed to "support the US in an action if the US chose to take that action" against China over Taiwan, prompting Global Times editor Hu Xijin to shoot back on social media on Sunday.
"If Australian troops come to fight in the Taiwan Straits, it is unimaginable that China won't carry out a heavy attack on them and the Australian military facilities that support them," Hu warned.
So Australia better be prepared to sacrifice for Taiwan island and the US.
The government of Australian Prime Minister Scott Morrison has become increasingly antagonistic towards China and has made repeated references to conflict and war. The Morrison government has also increased Australia's cooperation with the United States, damaging its previously good relationship with China – a foreign policy shift that has been criticised by former Australian prime ministers Paul Keating, Kevin Rudd, and Malcolm Turnbull.
Last week, Keating warned that Australia "should not be drawn into a military engagement over Taiwan, US sponsored or otherwise," pointing out that Taiwan was "not a vital Australian interest."
Keating also accused Australia's foreign policy of being influenced by "spooks" at intelligence agencies and compared Morrison's controversial AUKUS deal with US and UK to obtain nuclear-powered submarines to "throwing a handful of toothpicks at the mountain."
Think your friends would be interested? Share this story!
You can share this story on social media: