Poland warns of possible 'armed' escalation over migrant border crisis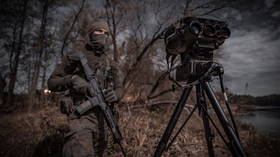 Warsaw has warned of a potential "armed" escalation at its border with Belarus, stating that up to 4,000 migrants have already massed there and blaming Minsk's "special services" for orchestrating a border breach.
The ongoing migrant crisis at the Belarusian border could devolve into an "armed" escalation, Polish government spokesman Piotr Muller told reporters on Monday.
"We expect that there may be an escalation of this type of action on the Polish border in the near future, which will be of an armed nature," he said, blaming "people linked to Belarusian special services" for organizing the border breach attempt.
Also on rt.com
How thousands of migrants tried to take Belarus-Poland border by storm
An estimated 3,000-4,000 migrants have already amassed at the border on the Belarusian side. Over 10,000 more are believed to be elsewhere in Belarus and are also preparing to cross into Poland, the official added.
The situation on the Belarus-Poland border escalated on Monday, when a large caravan of illegal migrants approached the frontier seeking to get into the EU.
Footage from the scene showed the migrants using bolt cutters and other tools, and felling trees to destroy barbed wire fencing. The crowds were met by a large military and police force, which fended off their attempts to breach the border.
Warsaw has repeatedly accused Belarus of actively aiding the illegal migrants and directing them towards the border, as well as helping them to breach it. Poland has released multiple videos purporting to show Belarusian plainclothes officers dismantling the border fence. The EU has also accused Minsk of "weaponizing" migration, pointing to a high volume of flights coming to the country from migration-hotspot troubled countries.
The border tensions between Belarus and its EU neighbors have been gradually increasing since the summer amid a skyrocketing number of attempted illegal crossings. Minsk insists it has just opted to abandon its efforts to stop migrants, mainly originating from the Middle East, from trying to reach the EU, and that it has moved to tear up previous agreements requiring it to re-accept those deported from the EU for entering illegally. It made these decisions in response to a new round of EU sanctions against Belarus. The Belarusian Defense Ministry rejected claims of border violations by its soldiers as well as any involvement in encouraging the migrant crisis on Tuesday.
Also on rt.com
UN condemns use of asylum seekers as 'political pawns'
A number of people are believed to have died over the past few weeks while sleeping rough at the border. The UN's refugee rights agency has urged Poland to ensure those in need of refuge are not deprived of humanitarian assistance.
Think your friends would be interested? Share this story!
You can share this story on social media: