French policeman injured in stabbing in Cannes – interior minister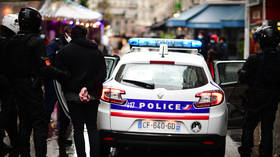 A stabbing incident occurred in Cannes, France in which the assailant injured a police officer, the interior minister said. The attacker was "neutralized" by other officers.
"I am going there immediately" to offer support for the national police and the city, Interior Minister Gerald Darmanin said in a tweet announcing the news.
The incident was also reported by Cannes Mayor David Lisnard, who said the attack happened near the central police station. The male attacker was injured after an officer shot him, the mayor said.
A BFM source in the police told the outlet that the knife-armed man opened the door of a police vehicle parked in front of the station and proceeded to stab one of the three officers inside. One of the officers shot him as he went around the car and tried to attack the second target.
The attacker allegedly said something about "the Prophet," the source said. The officer who was stabbed was reportedly partially protected by his ballistic vest.
The interior minister's personal involvement with the case may indicate the level of security concerns in the country. France has suffered a number of incidents of this type which turned out to be terrorist attacks. In 2020, teacher Samuel Paty was beheaded after a class in which cartoons of the Prophet Mohammed were reportedly shown to students. Days later, a man of Tunisian origin stabbed three people to death in a church in the city of Nice.
Also on rt.com
Tokyo subway attacker wore 'Joker' costume and sought death sentence, stabbed 17 people before starting fire – reports
The stabbing is being investigated by the regional police department based in Nice. The city was infamously hit by one of the worst terrorist attacks in French history in 2016, when a man drove a truck along the Promenade des Anglais on Bastille Day, killing 86 people and injuring over 450.
Think your friends would be interested? Share this story!
You can share this story on social media: