Death toll rises to 46 with dozens injured after fire engulfs Taiwan 'ghost building' overnight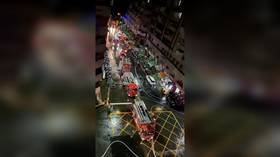 At least 46 people have died and dozens have been taken to hospital after a 13-story building caught fire in the early hours of the morning in Taiwan. The blaze was described as "extremely fierce" while the source remains unknown.
The mixed-use building, seemingly primarily residential, caught fire on Thursday morning, around 3am local time (7:00 GMT), in the city of Kaohsiung, southern Taiwan, according to fire department officials.
Some 75 vehicles and 159 firefighters were dispatched to take on the blaze. The fire was extinguished around 7:17am, but the building's lower levels have been completely blackened. Firefighters continued their search and rescue efforts throughout the afternoon.
In a statement on Thursday afternoon, the Kaohsiung fire department said that having completed a search of the building, they could confirm 46 people had died in the blaze. Some 41 people were injured.
Speaking earlier on Thursday, the head of the fire department told journalists that at least 11 people found by the emergency services were taken straight to the morgue. A further 55 were taken to the hospital, including 14 people who showed no signs of life; in Taiwan official confirmation of passing must be made at a hospital.
Also on rt.com
China and India are locked in a clash that goes far beyond a few kilometres of disputed land; their enmity and distrust runs deep
A statement from the fire department described the blaze as "extremely fierce," and noted that many floors of the 13-story block had been completely destroyed.
The source of the fire remains unknown although eyewitnesses told local media that they heard an explosion at around 3am.
Taiwanese media described the block as a "ghost building" and said it was in a state of deterioration; it is around 40 years old. The block's two underground floors were not in use, while floors one through to five were abandoned. Taiwan News says approximately 120 households were residing on the seventh through 11th floors.
If you like this story, share it with a friend!
You can share this story on social media: