Swiss voters approve same-sex marriage in national referendum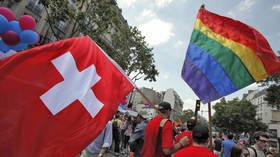 Switzerland has voted to legalize same-sex marriage in a national referendum on Sunday. It gives extra rights to gay couples, who previously faced some legal restrictions.
Final results published on Sunday said the initiative has been accepted by nearly two-thirds of voters, with 64.1% voting in favor. Opinion polls conducted prior to the referendum indicated similar support levels. The final tally of the vote is expected later on Sunday afternoon.
Before the vote, same-sex couples had the option of a civil partnership under a 2007 law, but some of their rights were limited, compared to married couples. They couldn't get joint custody of adopted children, for example, and couldn't adopt children to whom they are not related by blood.
Once same-sex marriage is legalized, lesbian couples in Switzerland will be entitled to use sperm from donors and other forms of medically assisted conception, on par with heterosexual couples.
Legalization will also make things smoother for mixed-citizenship, same-sex couples who want to get a foreign spouse naturalized.
Also on rt.com
Switzerland rejects campaign to ban fossil fuels, claiming it's on course to hit 2050 net zero emissions target
The "marriage for all" initiative was spearheaded by the Swiss government, which touted it as a matter of equality.
Opposition was led by groups upholding conservative values, who claimed it could lead to a surge in surrogate pregnancies – which are illegal in Switzerland – and would hurt children conceived from donors. Such children have to wait until they are 18 to learn the identity of their biological father, under Swiss law.
If you like this story, share it with a friend!
You can share this story on social media: