Ousted Afghan President Ghani and family 'welcomed into UAE on humanitarian grounds' – FM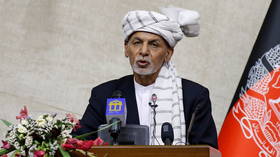 In a brief statement, the UAE Foreign Ministry announced that the country has taken in Ashraf Ghani and his family "on humanitarian grounds" after the ousted president fled Afghanistan on Sunday as the Taliban approached Kabul.
"The UAE Ministry of Foreign Affairs and International Cooperation can confirm that the UAE has welcomed President Ashraf Ghani and his family into the country on humanitarian grounds," the statement, posted to the ministry's website on Tuesday, read in full.
Rumors of where Ghani had fled have circulated since his abrupt departure from the country at the weekend. According to the Russian Embassy in Kabul, the leader tried to abscond with so much cash that it couldn't fit into his helicopter and some had to be abandoned at the airport.
Also on rt.com
Afghan Vice President Saleh declares himself legitimate caretaker president
Ghani left Afghanistan as the Taliban closed in on the capital, and later posted on Facebook to explain that he left his presidential post in an effort to thwart the "massacring" of civilians and heavy bloodshed in Kabul.
It's not clear what route he traveled to the UAE or when he arrived there. According to initial reports, the leader was flown to nearby Tajikistan, which denied his landing, prompting him to go to Oman.
On Tuesday, Afghanistan's first vice president, Amrullah Saleh, posted on Twitter to declare himself the country's de-facto president. Referring to the country's constitution, Saleh said that "in absence, escape, resignation or death of the President the FVP becomes the caretaker." He added that he remains in the country and has reached out to leaders to "secure their support and consensus."
Also on rt.com
Taliban reportedly fire on civilians in Jalalabad, killing 3, after protesters tear down Islamist standard and raise Afghan flag
After making sweeping territorial gains of Afghanistan's provincial cities, the Taliban seized the capital on Sunday. An official from the US intelligence estimated just days prior that Kabul would fall in a span of 30 days to six months after the withdrawal of American troops, as opposed to mere days.
Think your friends would be interested? Share this story!
You can share this story on social media: