Beirut blast demonstrators get past riot police and tear gas, smash front of minister's home (VIDEOS)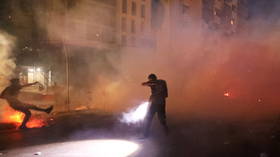 After being beaten and tear gassed by riot police, a mob of protesters in Beirut has smashed the entrance to the home of Lebanon's interior minister, who they say is protecting those responsible for last year's port explosion.
Protesters marched to the house of Mohammed Fahmi earlier on Tuesday, demanding that the caretaker interior minister lift the immunity granted to government officials over last year's devastating port explosion. Clashes soon broke out, and police and security officers beat back the demonstrators.
The crowd grew in size, however, and the protesters managed to reach the front of Fahmi's building. As the police and security officers threw tear gas, the mob smashed the front windows of the building. It is unclear whether Fahmi was inside his home at the time.
More protesters gathered out on the street, enveloped by clouds of tear gas.
Darkness fell over the Lebanese capital and police sirens echoed through the street, but a group of demonstrators – some of whom lost family in the port blast – remained outside Fahmi's house.
Tuesday's march to the minister's residence was not the first time demonstrators have demanded accountability from Lebanon's government over last year's explosion, which killed more than 200 people, injured over 6,000 and destroyed huge swathes of the Lebanese capital. Earlier this month, family members of blast victims protested outside the Interior Ministry after Fahmi denied a request by investigators to interview former General Security Agency head Major General Abbas Ibrahim.
Ibrahim is one of several current and former officials suspected to have had some knowledge about the improper storage of highly explosive ammonium nitrate at the port. A number of ministers also accused of negligence remain shielded by parliamentary immunity.
Like this story? Share it with a friend!
You can share this story on social media: