Covid-19 vaccine misinformation being spread easily via TikTok Sounds, targets people of color – UK think tank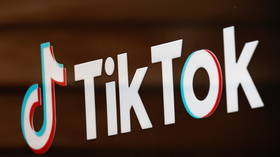 A London-based think tank has said that TikTok is being used to distribute and promote misinformation about Covid-19 vaccines as the "Sounds" feature allows dubious audio content to proliferate with ease.
On Monday, the Institute for Strategic Dialogue (ISD), a think tank focused on extremism, published a report claiming that a feature known as TikTok Sounds is allowing vaccine misinformation to proliferate as multiple users can re-use previously recorded audio content.
A team at ISD looked at 124 videos which used speech originating from four particular TikTok videos, two of which had been removed by the platform for breaking rules on misinformation and fueling fears about Covid-19 vaccine side-effects. More than 20 million people had viewed the 124 videos, ISD said.
"There's a part of the content which is still able to travel," said Ciaran O'Connor, the ISD report's lead, given the ability of TikTok users to make their own video using someone else's sounds.
O'Connor took one example in which a user had posted a video stating that they wouldn't take a Covid-19 vaccine because it had only taken a year to develop, despite people waiting 40 years for HIV vaccines. While the original was deleted on grounds that the audio was misleading and incorrect, the original Sound could still be used by other TikTok users.
Also on rt.com
FDA issues warning that Johnson & Johnson's Covid-19 vaccine can cause rare neurological disorder after 100 cases detected
The ISD analysis also suggested that the misleading anti-vaccination clips were being targeted at people of color in particular. One video showed a black woman who claimed to be a nurse and allegedly developed Bell's palsy after her vaccination. While the video was subsequently proven a fake by the Associated Press and the original video deleted, the audio continues to be used on the platform. In one case, the audio is apparently used with the caption saying "they want black people to take it first for a reason."
In response to the ISD research, TikTok said they had noted the report and were taking action. "We strive to promote an authentic TikTok experience by limiting the spread of misleading content, including audio, and promoting authoritative information about Covid-19 and vaccines across our app," a company spokesperson told Reuters. They also said that three of the Sounds identified in the report had been removed, as well as some videos.
Over the last year, social media firms including TikTok have been pushed to better censor anti-vaccine material shared on their sites, although audio content has proven harder to isolate.
According to its website, the ISD has received private sector funding from tech companies and social media platforms including Facebook, Google and YouTube, as well as government offices in the UK and elsewhere.
Like this story? Share it with a friend!
You can share this story on social media: