Over 160 unmarked graves found on island where infamous residential school branded 'Canada's Alcatraz' stood – indigenous group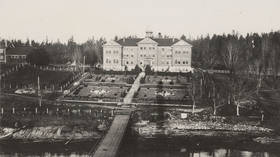 In the fourth such discovery in recent months, a Canadian indigenous group has said it has found over 160 "undocumented and unmarked" graves on Penelakut Island, which once housed a residential school dubbed 'Canada's Alcatraz'.
Representatives of the Penelakut tribe confirmed that the graves had been found on the "grounds and foreshore" of the territory, previously known as Kuper Island, located in the strait of Georgia between Vancouver Island and the western province of British Columbia on the mainland.
In a statement to "neighboring tribes and organizations" on July 8, the tribe's Chief Joan Brown and other officials noted with a "tremendous amount of grief and loss" that "too many" of "our brothers and sisters from our neighboring communities" who attended the Kuper Island Industrial School "did not return home."
Stating that it was "impossible to get over acts of genocide and human rights violations," the Penelakut representatives said, "We are at another point in time where we must face the trauma because of these acts of genocide. Each time we do, it is possible to heal a little more."
"Healing is an ongoing process. Sometimes it goes well, and sometimes we lose more people because the burden is too great," the statement read.
According to Royal British Columbia Museum archives, the Kuper Island Indian Industrial School opened in 1890 and was run by the Catholic Church with funding from the Canadian government. The federal government took over the school in 1969 and closed it sometime between 1975-1978. The building was demolished in the 1980s.
The institution has been referred to as 'Canada's Alcatraz' due to its remote island location – similar to the infamous US prison – but also because of several documented cases of children who drowned while "trying to escape by swimming across to Vancouver Island, or floating logs across the water."
The National Center for Truth and Reconciliation, which records human rights abuses at residential schools and collects survivor testimonies, lists the names of 120 students who died while attending the Kuper Island Industrial School. The dates of death for 22 of these students remains unknown.
The center, located at the University of Manitoba, also noted that a survey conducted in 1896 had found that out of 264 former students at the school, 107 had died.
Steve Sxwithul'txw, a member of the Penelakut tribe who went to the school in 1970 when he was five years old, said the graves were not a "discovery," but "something that was bound to be relinquished or unearthed in some shape or form."

"It's even hard to call it a school. It's really an institution that did everything they could to take away absolutely everything we had," Sxwithul'txw told the Global News outlet.
Also on rt.com
751 unmarked graves found near former Catholic residential school in Canada, indigenous group reveals
Under the controversial school system, which has been officially likened to "cultural genocide," more than 150,000 indigenous children were removed from their families and forced to attend church-run state schools across Canada until the late 1990s.
In its 2015 report on residential schools, Canada's Truth and Reconciliation Commission identified the names or information of more than 4,100 children who died in the system. However, the exact number remains unknown.
While it was not clear in the statement how or when the grave sites on Penelakut Island were found, the revelations are likely to add to public anger over the recent discoveries of more than 1,000 unmarked graves believed to belong to indigenous students at former residential school sites across the country.
In June, the St. Mary's Indian Band uncovered 182 graves at the former site of the St. Eugene's Mission School in the South Interior of British Columbia. Meanwhile, another 751 graves were found by the Cowessess First Nation in a cemetery at the former Marieval Indian Residential School in Saskatchewan province.
Later this week,the Tk'emlups te Secwepemc First Nation will release findings of a ground-penetrating radar survey of an estimated 215 unmarked graves discovered in May at the former Kamloops Indian Residential School in British Columbia.
If you like this story, share it with a friend!
You can share this story on social media: