Cuban FM claims US-backed 'mercenaries' stoked unrest ahead of protests disguised as cry for help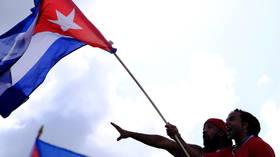 Cuba's Foreign Minister Bruno Rodriguez has denounced the weekend's protests as a "systemic provocation" by dissidents working hand in hand with the forces of the US government to destabilize the nation.
Earlier Monday, the Biden administration flatly declared the protests an "unprecedented rejection of the island nation's government," placing the blame for the unrest at the feet of Cuba's Communist government.
After the Biden government's statement in support of Cuban protesters following the weekend's street demonstrations, Rodriguez swiftly challenged the US president's claims.
"Yesterday in Cuba there was no social uprising, yesterday in Cuba there was disorder, disturbances caused by a communicational operation that has been prepared for some time and to which millions had been dedicated," the FM countered.
Also on rt.com
'Freedom, food, vaccines!' Mass protests in Cuba backed by US officials as president urges supporters to defy 'foreign meddling'
Rodriguez claimed a social media campaign had been run with the intent of destabilizing Cuba, hitting the country in a moment of weakness with the help of "US-financed mercenaries" who could then burrow their way into existing pockets of unrest on the island to take down the communist nation.
Meanwhile, Cuban President Miguel Diaz-Canel dismissed the unrest as the result of the long-standing American embargo that has starved the island of much-needed resources for over half a century in defiance of human rights law.
Nevertheless, Cuban doctors were able to develop two vaccines for Covid-19 on their own, not only coming up with the formulae themselves but domestically producing the drugs and inoculating at least a quarter of the population with them – this despite a syringe shortage brought on by US sanctions.
Think your friends would be interested? Share this story!
You can share this story on social media: