TikTok users flock to Twitter in distress after app goes down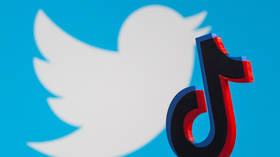 The denizens of TikTok have swarmed to other platforms en masse after widespread technical issues on the app, as desperate users report losing their videos and followers, while others remain locked out of the site altogether.
Tens of thousands of netizens reported problems on Down Detector on Tuesday, with TikTok itself acknowledging the glitches in a brief statement, saying it is acting "quickly" to return the site to working order.
Many TikTok users were more panicked than patient, however, taking to Twitter to decry the outage, some saying that they had gone through the "five stages of grief" waiting for their profiles to load back up.
Others also noted that they were able to access the site, but were missing all of their videos, followers, likes and, in one case, even a username.
One commenter neared their breaking point, saying they were "THIS close to committing arson" over the TikTok blackout, which lasted for several hours for some users, though others were more resigned to their fate, suggesting it might be time to "be a menace on another app."
Think your friends would be interested? Share this story!