Iran's Atomic Energy Organization says 55 kilos of 20%-enriched uranium produced since January amid nuclear deal talks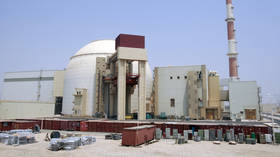 Iran's Atomic Energy Organization has said the country has already produced 55kg of 20%-enriched uranium this year, meaning the 120kg target should be achieved within eight months, as JCPOA talks take place in Vienna.
Speaking with the Sada-e Vasima news agency on Wednesday, Behrouz Kamalvandi, the Atomic Energy Organization of Iran's (AEOI) spokesman, said the country had exceeded the enrichment capacity achieved before the introduction of the Joint Comprehensive Plan of Action (JCPOA) in 2015. The JCPOA saw Iranian atomic ambitions curtailed in exchange for increased economic access and a reduction of sanctions.

"Our 20% uranium production rate is now much higher than before Borjam (the JCPOA). We have 30% more production capacity than before Borjam. At present, we have an enrichment capacity of about 16,500 SWUs (Separative Work Unit, a measure of the effort required to separate isotopes of uranium); that figure was 12,500 SWUs before the nuclear deal was inked," Kamalvandi stated.
The spokesman said that while there were fewer centrifuges today than there were in the past, the new generation of technology has eight times more capacity. He added that the agency was currently overseeing the deployment of more new centrifuges.

Also on rt.com
Iran hails 'constructive' nuclear deal talks but dismisses offer of $1bn asset release to halt uranium enrichment
"55kg of 20%-enriched uranium has been produced so far (this year) and with this speed, we can reach the determined aim in less than eight months," Kamalvandi stated. In November, the Iranian parliament set an annual production target of 120kg of uranium to be produced each year by the AEOI, stating the process must begin within two months.
The spokesman added that Iran will be able to further speed up its enrichment program in the coming months as new enrichment assets come online.
On Tuesday, Iran rejected US proposals to suspend its 20% uranium enrichment in return for unfreezing $1 billion of its assets, after a first round of talks to reinstate the 2015 nuclear deal which was abandoned by former US President Donald Trump. Trump's 2018 withdrawal from the accords saw crippling sanctions placed on Tehran.
Negotiator Abbas Araghchi said negotiations in Vienna were "constructive," according to Iranian state-run news network Press TV. The UK, France, and Germany have mediated the talks which aim to bring the US and Iran back in line with the agreement, which the US unilaterally abandoned under then-President Trump.
If you like this story, share it with a friend!
You can share this story on social media: