Syrian air defenses respond to 'Israeli aggression' near Golan Heights – state media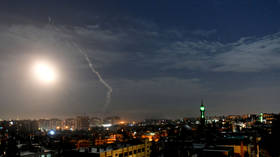 Syrian air defenses have responded to an Israeli missile attack near al-Quneitra, according to reports in the country's state media.
The missile strikes were launched late on Wednesday night around al-Quneitra, a city south of Damascus and just outside the Israeli-occupied Golan Heights, according to the Syrian Arab News Agency.
Footage circulating online purported to show the attack in progress.
Syria's air defenses were also activated near Damascus, according to i24news and the Times of Israel. There were no casualties in either city, but the strikes did inflict unspecified "material damage," according to military sources cited by SANA.
Earlier on Wednesday, the Israeli military said an anti-aircraft missile was fired at one of its drones as it flew over Lebanese airspace, but added that it missed its target. Israeli missile and rocket attacks on Syria are frequently launched from over Lebanon.
Tel Aviv has carried out periodic airstrikes on Syrian territory throughout the country's years-long war against Islamist militants, often claiming to target Iranian military deployments sent to back up Damascus. The Israeli military rarely confirms such operations, however Prime Minister Benjamin Netanyahu has previously acknowledged "hundreds" of strikes on Syria.
Think your friends would be interested? Share this story!
You can share this story on social media: