'Completely untrustworthy': Iran BANS import of coronavirus vaccines from US and Britain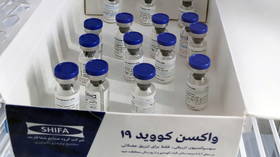 Iran's Supreme Leader Ayatollah Ali Khamenei has prohibited the import of any Covid vaccines from the US and UK, questioning their efficacy and suggesting developers might be willing to "test" their drugs on foreign nations.
The announcement came in a televised speech on Friday, with the Supreme Leader going as far as to suggest that London and Washington might be seeking to "contaminate" other countries with their anti-coronavirus solutions.
Imports of US and British vaccines into the country are forbidden ... They're completely untrustworthy. It's not unlikely they would want to contaminate other nations.
Khamenei did not miss the opportunity to take further swipes at Iran's arch-rival, stating that the soaring numbers of coronavirus infections in the US are the best proof why its medical products should not be trusted.
"If the Americans were able to produce a vaccine, they would not have such a coronavirus fiasco in their own country," he said.
Also on rt.com
Risking American life abroad 'won't divert attention from catastrophic failures at home': Iran blasts Trump's threats
US drug makers Moderna and Pfizer, as well as British AstraZeneca, have launched their respective anti-coronavirus inoculations in recent months. Mass-vaccination campaigns utilizing their drugs have already kicked off in several states, including the countries of the vaccines' origin. Earlier, Iran's Red Crescent announced it was set to receive a batch of 150,000 doses of the Pfizer jab, though the organization gave no timeframe of when the vaccines would arrive.
Apart from outright banning the US and UK drugs, Khamenei also signaled that Tehran won't be counting on any French-made products if they become available either.
"Given our experience with France's HIV-tainted blood supplies, French vaccines aren't trustworthy either," Khamenei said, referring to the major early-1990s scandal.
The leader said, though, that Tehran has had the option to import coronavirus vaccines "from other reliable places." While Khamenei did not specify the candidates for imports, Russia's Sputnik V vaccine is likely to be among the first candidates. Iran has been developing its own vaccine, and its first-stage trials have already begun.
Also on rt.com
Vaccine might not work properly against mutated Covid-19 variant, warns UK Minister hours after Pfizer study claims jab effective
The enduring sanctions imposed on Tehran by Washington limit its ability to procure vaccines from abroad, especially the West. While supplies of essential medical goods are not sanctioned, Iran's ability to make foreign transactions has been severely limited.
Khamenei also touched upon the sanctions issue, again calling upon Washington to stop its hostile policies and urging it to lift the restrictions. He also said the US still had an option to return to the landmark nuclear deal which Washington walked away from back in 2018.
"We are not insisting nor in a hurry for the US to return to the deal," Khamenei stated. "But what is logical is our demand [for] the lifting of sanctions. These brutal sanctions must be lifted immediately."
Think your friends would be interested? Share this story!
You can share this story on social media: