UK, France and Germany urge Iran to stop uranium enrichment program 'without delay' as Tehran ups the stakes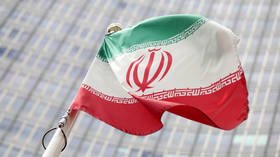 The E3 foreign ministers have warned Iran that the decision to enrich uranium to 20 percent will reduce the space for "effective diplomacy" and compromises the ability to improve ties with the incoming new US administration.
On Wednesday, the UK, France and Germany released a joint statement concerning Iran's decision to enhance its uranium enrichment program, a further hollowing-out of the Joint Comprehensive Plan of Action (JCPOA) on Tehran's nuclear ambitions.
"We are deeply concerned by the commencement by Iran on the 4th of January of uranium enrichment up to 20 percent at the underground facility of the Fordow Fuel Enrichment Plant," the statement reads.
This action, which has no credible civil justification and carries very significant proliferation-related risks, is in clear violation of Iran's commitments under the Joint Comprehensive Plan of Action and further hollows out the Agreement.
The trio of European states also urged Tehran to immediately give up its enrichment program and return to the limits agreed in the JCPOA.
The three nations state that Iran's decision undermines the joint commitment of JCPOA participants on December 21, and compromises the potential return of the US to the agreement with the coming of the new Biden administration. President Donald Trump pulled the US unilaterally out of the agreement in 2018.
Also on rt.com
China plays the peacemaker, urging 'calm' and 'restraint' following Iran's uranium enrichment announcement
On Monday, Tehran said it had started enriching uranium to 20 percent, drifting further away from the nuclear deal.
The new figure is higher than the 3.67 percent level agreed in the 2015 pact, but still far below the 90 percent level that is considered weapons-grade.
Trump's withdrawal from the pact also led to Washington's introduction of crippling sanctions against Iran, which Tehran says European powers failed to protect it from. It also said the European signatories never delivered on the improved business opportunities promised in 2015 when the JCPOA was signed.
Also on rt.com
Iran says it started enriching uranium to 20%, drifting further away from US-violated nuclear deal 
The decision to enhance Iran's uranium enrichment program was approved by the country's parliament in December, in an apparent response to the assassination of nuclear scientist Mohsen Fakhrizadeh.
Foreign Minister Javad Zarif has said the measures taken in the country's nuclear program are "fully reversible upon full compliance by all" parties to the 2015 deal.
Like this story? Share it with a friend!
You can share this story on social media: