Blaze destroys closing migrant camp in Bosnia after residents reportedly set fire to former home (VIDEO)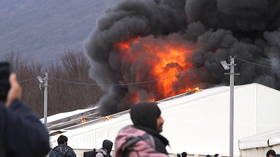 A fire has torn through a temporary migrant camp which housed 1,200 people in Bosnia and was in process of being closed after it was deemed unsuitable for winter conditions.
Videos emerged on Wednesday showing a huge fire taking hold of a migrant camp near Bihac in Bosnia. No injuries have been reported but the damage to the camp infrastructure is substantial.
Peter Van der Auweraert of the UN International Organization for Migration (IOM), shared a video of the fire and claimed it was started by former camp residents.
In a further Tweet, Van der Auweraert thanked the local fire brigade for getting the blaze under control.
Other photos show the migrants watching on as the camp burns and thick black smoke billows upwards.
The camp was set up in the summer as a temporary measure to cope with migrant movements towards EU countries and the challenges posed by the Covid-19 pandemic.
The camp, which was scheduled to close on Wednesday, had been described by the Council of Europe's human rights commissioner as having "seriously substandard" conditions.
Bosnia has become a bottleneck for thousands of migrants trying to reach Europe.
On Monday, the EU warned that 3,300 migrants face a winter without access to basic amenities, shelter, and services.
Experts had warned that the closing of the temporary camp would make life worse for migrants despite the squalid conditions.
The IOM added in a statement on Wednesday that while the camp houses 1,200 people, a further 1,500, including women and children, are currently "stranded in squats and forest camps" nearby.
Also on rt.com
EU allocates full €6 billion to Turkey in deal aimed at stopping migrants heading to Europe
Like this story? Share it with a friend!
You can share this story on social media: