French President Macron tests positive for Covid-19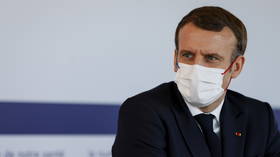 The Elysée Palace has confirmed that French President Emmanuel Macron has tested positive for Covid-19 and will isolate for seven days in accordance with health regulations.
President Emmanuel Macron was diagnosed with Covid-19 on Thursday, the Elysée Palace said in a morning press release.
"This diagnosis was established following an RT-PCR test performed as soon as the first symptoms appeared," the statement read.
The Covid-19 RT-PCR test is a real-time reverse transcription polymerase chain reaction test for the detection of the coronavirus.
The presidential palace said Macron will isolate for seven days in accordance with the health regulations in force, adding that the president will continue to work and carry out his activities remotely.
According to BFM TV, Macron is doing well and has not developed a serious form of the disease.
Also on rt.com
School's out: French students can skip classes to isolate before Christmas to reduce Covid spread risk
Macron's much-awaited visit to ailing and rudderless Lebanon on December 22 and 23 will now be canceled.
Prime Minister Jean Castex, a contact case of the president, is also self-isolating and will not go to the Senate, it was announced on Thursday.
Also on rt.com
Covid-19: French Minister says decision not to reopen theatres and museums 'a true heartbreak' & pledges more funding
France has been one of the hardest-hit nations in the world by Covid-19, and has witnessed a severe second wave of the virus this autumn.
A tough lockdown was announced seven weeks ago, but with new infection numbers still high, the government has been reluctant to ease restrictions.
On Thursday, the country registered 17,615 new infections and 289 new deaths – down from highs of 50,000 new cases a day when lockdown was imposed.
Think your friends would be interested? Share this story!
You can share this story on social media: