French govt DROPS controversial bill curbing filming of police in major u-turn, new version to be written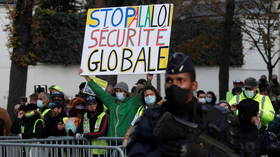 The speaker of French President Emmanuel Macron's ruling party has said the government is dropping part of a controversial bill curbing the right to film on-duty police – which drew huge public anger – and will re-draft it.
Christophe Castaner, president of La Republique en Marche in the National Assembly, told the press on Monday that the government recognized "misunderstandings" around article 24 of the global security bill.
Castaner said article 24, which prohibits the filming of on-duty police officers, of the law on comprehensive security would be removed and rewritten for future submission.
"In no case do we want to prohibit the filming of security forces in intervention."
Also on rt.com
Paris protesters torch cars, set BANK on fire amid clashes over bill slammed as 'ban on filming police brutality' (VIDEOS)
The legislation was given the green light by the French parliament last Tuesday, when France's lower house backed the complete global security bill by a majority of 388 votes to 104, with 66 abstentions.
The government has come under considerable pressure over the inclusion of article 24 within the new proposed security law, and had sought to assure people and bodies – including the European Commission – that the bill would not impact press freedoms.
Interior Minister Gerald Darmanin had previously claimed that the aim of the article is to "protect those who protect us."
Under the bill, sharing images of on-duty cops "with the aim or harming their physical or psychological integrity" would become punishable with a year's imprisonment and a maximum €45,000 ($53,360) fine, raising concerns it could be used to hamper freedom of the press and conceal incidents of police brutality.
"Article 24...would not have had any impact on the images we have seen in recent days," Castaner said on Monday, in reference to incidents of heavy-handed policing caught on camera over the last week. One of the most widely-shared was the brutal arrest of a music producer in Paris last Saturday, during which police forced themselves into his studio and fired tear gas.
The draft bill has been the cause of substantial unrest and multiple protests throughout November, which intensified after footage of the producer being beaten by French cops went viral.
Also on rt.com
4 French officers indicted, 3 placed on pre-trial detention after black music producer brutally beaten in Paris
On Saturday, a reported 46,000 people took to the streets in Paris to demonstrate their opposition to the proposed law. Protesters lit fires across the city and violently clashed with police.
Think your friends would be interested? Share this story!
You can share this story on social media: