Banksy loses legal battle, puts his EU trademark at risk – all because of his anonymity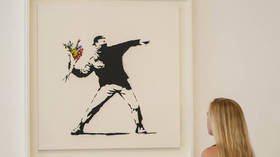 The renowned street artist can not keep intellectual property rights on his work as he could not be "unquestionably" recognized as its sole owner due to his complete anonymity, a European intellectual property authority has ruled.
Banksy has lost his case against a greeting card company, Full Colour Black, which sought to use an image depicting the Flower Thrower stencil mural he painted in Jerusalem. The European Union Intellectual Property Office (EUIPO) sided with the company, arguing that the artist cannot be identified as the unquestionable owner of the work – and, thus, its image – since his identity is unknown.
Also on rt.com
Banksy shares rare VIDEO of himself tagging London Tube with Covid-themed graffiti
"Banksy has chosen to remain anonymous and, for the most part, to paint graffiti on other people's property without their permission, rather than to paint it on canvases or his own property," the panel said.
The artist's representatives registered an EU trademark for the Flower Thrower image back in 2014. However, the trademark was later disputed by Full Colour Black, prompting the artist to set up a gift shop named Gross Domestic Product in Croydon, south London, in 2019. The artist himself said at that time that virtually the only reason behind the establishment of the store, which only offered online sales, was to win a trademark dispute.
The panel, however, eventually decided that the shop did not help his case but in fact undermined the artist's cause. Banksy's intention "was not to use the mark as a trademark to commercialise goods ... but only to circumnavigate the law. These actions are inconsistent with honest practices," EUIPO said.
The artist himself has not yet reacted to the EUIPO ruling. Banksy is a UK-based street artist, known for his social and political-themed graffiti and other artistic works. He has been active since the 1990s, but nobody has managed to reveal his identity in the years since.
Also on rt.com
Police in Italy recover door with Banksy's artwork STOLEN from Paris Bataclan
Like this story? Share it with a friend!
You can share this story on social media: