US army helicopter makes 'emergency landing' in northern Syria, crew evacuated – coalition spokesperson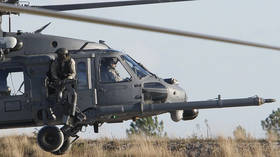 An American military helicopter has made an emergency landing in Syria, the US-led coalition has said. The statement followed a reports by Syrian media that the US chopper had crashed.
The helicopter landed safely in northern Syria and all of its crew was "recovered," Operation Inherent Resolve spokesperson Colonel Wayne Marotto said.
Marotto also stated that "the incident was not the result of hostile activity." He did not specify what type of helicopter it was and how many people were on board.
A coalition helicopter conducted an emergency landing at approximately 0930 15SEPT20 in N Syria. The incident was not the result of hostile activity and the helicopter landed safely. Emergency personnel responded to the incident and there were no injuries & crew recovered.

— OIR Spokesman Col. Wayne Marotto (@OIRSpox) September 15, 2020
Marotto's statement came shortly after the Syrian state-run SANA news agency reported that an American helicopter had crashed in the countryside in the northwestern Al-Hasakah province, close to the Iraqi border. Citing local sources, the outlet reported that US armored vehicles had been deployed to the crash site.
US troops are active in Syria's northern and northeastern areas, where they support local Kurdish forces.
In 2018, a US Army Sikorsky HH-60 Pave Hawk search and rescue helicopter crashed in western Iraq near the Syrian border, killing all seven people on board.
Also on rt.com
Trump's anti-war rhetoric is smoke and mirrors
The US troops arrived in Syria in 2014 to fight Islamic State (IS, formerly ISIS/ISIL) and have remained in the country after IS was largely defeated. US President Donald Trump has repeatedly said that American troops are staying in Syria to protect the oil fields in the areas they control.
The Syrian government has always argued that the presence of the US military in the country is illegal and demanded their withdrawal. Damascus has also accused Washington of illegally exploiting Syrian natural resources.

Think your friends would be interested? Share this story!