Iran & IAEA reveal deal on inspections day after UNSC president dismisses US sanctions 'snap back' bid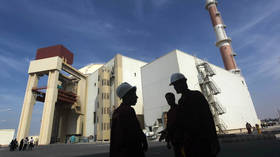 Tehran has struck a deal with the UN's nuclear watchdog to allow inspectors into two suspected former nuclear sites. The breakthrough comes just days after Washington demanded the UN slap Iran with fresh sanctions.
In a joint press statement, the International Atomic Energy Agency (IAEA) said on Wednesday that "Iran is voluntarily providing the IAEA with access" to the two sites. Inspectors believe that these sites still contain nuclear material, but an Iranian official told Reuters that this information is "fabricated."
"Iran, like before, is ready to cooperate with the IAEA," Iranian President Hassan Rouhani said on state television after the announcement.
Also on rt.com
Iranian FM accuses Pompeo of 'lawless bullying' as UNSC president dismisses US push for sanctions 'snapback'
While the IAEA hailed the agreement as a "good faith" gesture from the Islamic Republic, the US remains cynical. Secretary of State Mike Pompeo last week accused Iran of violating the terms of the Joint Comprehensive Plan of Action (JCPOA, or Iran Deal) – a 2015 accord between Iran and world powers that guaranteed the country some sanctions relief in exchange for a halt to its nuclear program.
Accusing Iran of "significant non-compliance" with the deal, Pompeo requested that the UN Security Council "snap back" sanctions on Tehran. Iran and the US' allies alike have questioned the legality of Pompeo's request, given that the US abandoned the nuclear deal in 2018.
China, France, Germany, the UK and Russia – who are all signatories to the deal – have said that they do not recognize the US move. On Tuesday, the current UNSC president dismissed the US call on reintroducing sanctions given the lack of consensus for it.
Think your friends would be interested? Share this story!
You can share this story on social media: